Downey Consulting, Inc.
Downey Consulting, Inc.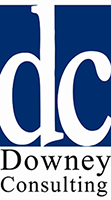 17012 I Street, Omaha, NE 68135
Chief in Charge: Michael Downey
Contact Information: 402-690-2337 or michael@dc-safety.com
Point of First Contact: Michael Downey
Contact Information: 402-690-2337 or michael@dc-safety.com
In a sentence or two, describe your business .....
We assist clients in providing a safe work environment by offering staffing, consultation, expertise and education in safety. We provide an array of services from inspecting jobsites, assisting clients with OSHA inspections and citations, writing safety manuals and training employees on any safety related topic.
A great day for our company is when .....
a client thanks us for assisting them in obtaining a lower EMR.
Our company is truly unique because .....
for a fraction of the cost of hiring a full-time safety director, a client of ours has access to many years of safety experience.
Our company always strives to .....
find economically feasible solutions to safety concerns. We always strive to give our client's employees the knowledge to pre-plan activities so they have the proper tools and training to complete a job in a safe manner.
A trend I see in our company down the road five years is .....
providing more training and certification to employers for their employees. OSHA has recently mandated training and certification for rigging, signaling and operating cranes. We believe this trend will continue.
The best business advice I have ever received is .....
spend your client's money as if you were spending your own.