Construction Leadership Academy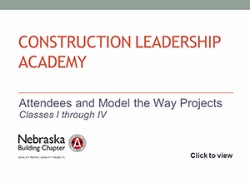 Developing and nurturing the leadership talent in your firm is critical to your business success - in a down economy as much as in robust times. For that very reason the Nebraska Building Chapter is excited to announce the fourth Construction Leadership Academy.

The Purpose of the Academy will be to develop the new and nurture the existing leaders in the industry through increasing their engagement and leadership skill set.

This is not the "flavor of the month" leadership training. This education series is designed to be accountable to stakeholders in several ways and is designed to result in developed leadership behavior. The training design includes the following:
Participant/mentor relationship

Pre/post evaluation

Goal setting for participants

Participant practice leadership skills via a selected service project or community service project

Participant presentation at last session

Training session for mentors
What the Firm Will Gain from Sponsoring an Employee's Participation