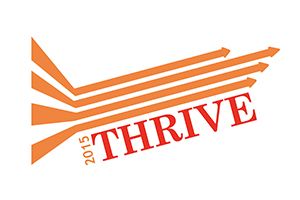 2015 Fall Conference
Program Information
QUALITY PEOPLE and QUALITY PROJECTS are what set AGC member firms apart from others in the industry. What is another common quality among AGC members? Member firms all thrive to be better, safer, leaner and in tune with the latest technology, best practices and methods in delivering projects.
Here are the THRIVE 2015 Fall Conference sessions--
9:00am - 9:50am
BUILDING AN A-TEAM: Strategies to Build Your Best Team
Presenter: Bryan May, BirdDogHR
There's a shortage of top talent due to fewer people entering the construction workforce and the Baby Boomer retirements. To compete for key employees and maintain compliance, companies must adapt and innovate. Get the best practices to attract, develop and retain the employees needed to complete projects and grow your business.
The session take a way includes:
Learning top techniques companies are using to recruit and hire quality employees
Defining your ideal team and then recruit, hire and develop that team for success
Identifying leadership styles that motivate people and create a productive environment
Bryan May
VP Business Development
Bryan May joined BirdDogHR in 1999. Prior to becoming the VP of Business Development, he held numerous positions in account management and sales. Bryan has been instrumental in BirdDogHR's product evolution from job boards to cloud-based integrated talent management software. He also pioneered the building and launching of the AGC of Iowa Career Center, a talent acquisition system that helps public employers document their "good faith" efforts for recruitment and recruitment advertising. He is the BirdDogHR expert on everything pertaining to recruitment, diversity outreach, applicant collection, tracking and affirmative action compliance reporting.


9:55am - 10:45am
WORKPLACE VIOLENCE PREVENTION & ACTIVE THREAT RESPONSE
Presenter: Nate McClung, National Safety Council-Nebraska
This session will provide an overview on Workplace Violence. Active shooter situations are unpredictable and evolve quickly. Because active shooter situations are often over within 10 to 15 minutes, before law enforcement arrives on the scene, individuals must be prepared both mentally and physically to deal with a situation.
The session take a way includes:
Workplace Violence Data
Patterns and Profiles of Perpetrators
Warning Signs
Prevention Tips
What to Do if an Incident Occurs
Nate McClung
Workplace Safety Advisor
Mr. Nate McClung, Major USMC (ret.) has over 21 years of government service with a primary focus within the aviation industry. He is a professional pilot and has over seven years of safety experience. He is currently working as a safety consultant for the National Safety Council Nebraska.


10:45am - 11:45am
ROUNDTABLE DISCUSSION ON SHARED JOBSITE SAFETY STANDARDS
Facilitator: Dr. Nate Barry
Here is the premise for this facilitated discussion, "We all hire the same subs and the same subs work for all of us. We all expect our worksites to be safe and we all expect employees to go home safe and sound each day from those sites. So, let's start a conversation to establish a unified safety standard for all AGC firms and the companies they work with." Six topics have been identified to start the discussion and everyone attending will have an opportunity to be heard. Dr. Nate Barry will facilitate the session.
The purpose of the session is to give both GC and subs an opportunity to discuss jobsite safety issues, reinforce practices that work and come to agreement on a range of outcomes. Outcomes could range from a list of "best practices" as a bare minimum all the way to a set of standards for safe practices and safety training resources to help ensure that all employees meet the standards.
This roundtable session is for both the GC and the specialty contractor and all safety professionals. Find out about this initiative and be a part of the conversation.


1:15pm - 3:45pm
DRONES IN CONSTRUCTION—BEYOND THE USUAL AND OBVIOUS
THE NEW SURVEY: INTEGRATING UAV & HD SCANNING INTO TODAY'S WORKFLOW
Presenters: Jonathan Harris and Eddie Fossler, Olsson Associates
Modern technologies are rapidly evolving in the competitive market of Engineering and Survey. Science fiction is quickly becoming science fact and new ways of accomplishing familiar tasks are augmenting and at times replacing traditional methods. Join Olsson Associates in a discussion about two of these technologies, Unmanned Aerial Vehicles (UAV), and High Density Surveying. These technologies are enhancing accuracy, expanding coverage area, and improving safety on the jobsite while providing new and improved ways to visualize and understand our environment.
Jonathan Harris
Unmanned Systems Program Manager
Jonathan's primary function as Unmanned Systems Program Director at Olsson Associates is to oversee the successful integration of unmanned systems into existing and future workflows. Mr. Harris works to develop best practices and standards for our uses with aerial inspection, survey, project documentation and data dissemination. As a certified private pilot, Mr. Harris functions as one of Olsson's UAS operators under their FAA authorization. Mr. Harris comes from a strong background as a geospatial analyst and environmental scientist.
Eddie Fossler
Land Survey Technical Manager
Eddie's role as Land Survey Technical Manager at Olsson Associates is to develop and maintain workflows and procedures in the use of the HDS system. Mr. Fossler also looks for ways to combine more traditional land surveying methods (Total Station and GPS) with the HDS system in order to maximize its usefulness in a variety of projects. Mr. Fossler comes from a back ground of almost twenty years of working in the land surveying field.


3:45pm - 4:30pm
INNOVATION, YOUR PROBLEMS ARE PRIZES
Presenters: Brock Smith and Tom Frederick
This will be our beer bucket session of the afternoon, so relax a bit and enjoy hearing two young entrepreneurs share how recasting job site frustrations and limitations of one construction company was turned into an opportunity for innovation and wealth building for them. In fact their innovation led to winning a recent "pitch" competition that included a $50,000 grand prize and a new company for them.
Brock Smith and Tom Frederick are partners in T & B Innovations LLC. Additionally, Brock is Internal Legal Counsel and Associate for Invest Nebraska Corporation and had his JD and MBA from UNL. Tom is a Graduate Research Assistant and has a PhD from College of Engineering at UNL.